I am so excited to share with you the almost complete baby's room. It is still a work in progress which is the fun part but I feel like if I don't blog about it now, I might miss my chance. This little one could come any day and I am sure I will be taking a small blogging break after her arrival.

We both love the room and often just go and sit in it, as it's so peaceful and exciting to imagine it with a little girl in there. My mother in law is the talented hand behind all the bedding. She hand made ALL the bedding. What an amazing gift! We spent days looking for the perfect fabric and then I am sure she spent more then days sowing it all together! :) I simply love how it came out.

I also love the "women in her life wall". It came out great and is so fun to see everyone as a lil one themselves.

For all the soon to be Mom's out there- it does not have to cost a fortune to do up a room. I really tried to do this on a budget. The crib was a hand me down from Jay's sister, the changing table was a Pottery Barn table that I got on Craigslist, the rocker was also a Craigslist buy (is a top notch brand from a local boutique store) and the bookshelf was one we already had, I just repainted it.

Take a peek. I hope she likes it....
(Please ignore my terrible pics, I just could not capture it the way it looks in real life)

The dark gray linen curtains with the pink and white stripe fabric bow, the alphabetic and numeric bumper pad, the light gray linen crib skirt, the silver and white "fancy" blanket. It is all so perfect and just what I had envisioned.



The leaves and branches decal I bought on Etsy! It took hours to do but is so worth it. I also LOVE the mobile Jay bought her. It is so simple and sweet. My whole life my Mum called me her "little lamb" so it is pretty perfect that these are little lambs. The bow board was a DIY and was so easy and simple. I will blog about it on Friday.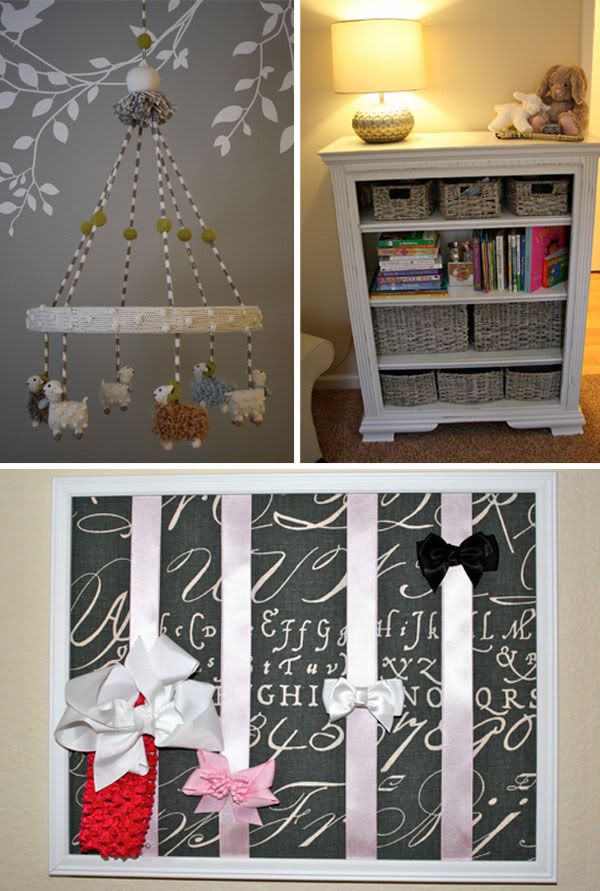 I got these baskets from Home Goods. I was thrilled when I saw them because they fit the silver/gray theme so well. The women in her life wall, is a mix match of silver frames and pink ribbons.